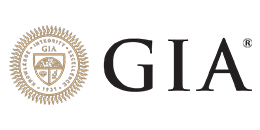 GIA - Gemological Institute of America
The GIA, or Gemological Institute of America, is focused on teaching people about Jewelry and gems. It's non-profit and mostly research based. All types of different gemstones are graded through the GIA, and Diamonds are a part of that. Gemologists can be trained through this organization, as well, and there's a lot of support offered to the diamond industry. Currently, the GIA is top rated when it comes to the certifications and verifications of Diamonds throughout the Jewelry and gemstone industries. This is due to their strict grading standards and international acceptance.
If you buy a diamond with a GIA rating and grading, you know what you're getting and that you're receiving a quality stone. The GIA is the organization that came up with the current grading standards that are accepted industry wide, so they are truly the industry leader in diamond grading. If you have a GIA graded diamond, you have a stone you can feel good about and have confidence in based on the quality of the diamond and the value that has been placed on it. While there are a number of other certification labs, the gold standard for grading Diamonds is generally understood to be the GIA.
Why Does Diamond Grading Matter So Much?
The analysis and grading of Diamonds is extremely similar across all of the main labs that offer this service. Additionally, these labs offer certification of the Diamonds in order for jewelers, customers, and others to see what trained professionals feel the quality and value to be. Graduate gemologists asses color, clarity, cut, and carat weight, and they all do this independently. After all of the evaluations are collected and evaluated, a final grade is given to the diamond. This reduces the human error potential, because more than one trained professional has offered their true assessment of the diamond.
There can still be inconsistencies, and human mistakes do happen. However, this is currently one of the best and most reliable ways to get information on the true value and grade of Diamonds. With that in mind sending the same diamond to a lab for a second time, or sending a diamond to another lab for a second opinion, can produce a different result. This is important to note, but not necessarily a problem. The grading of Diamonds is usually very close across multiple laboratories and with multiple opinions from trained gemologists.
No matter what size and style of diamond you're looking for, making sure you get one that has been graded and certified can be important to your peace of mind. That way you will have the diamond you really want, and a clear understanding of its value. Having a certified diamond is preferred by most people, but that certification comes at a premium cost and valuation to go along with its peace of mind. That's why some people choose other options, instead of purchasing a diamond that is lab certified and that commands a higher price because of that certification.
One of the best options for buyers looking for a quality diamond at a lower price is to buy Diamonds that are independently graded. These are typically graded by graduate gemologists who have studied and completed grading Education at an institution listed above. Independently graded stones do come at a discount over lab graded Diamonds, and that can be a big benefit for people who are looking for lower prices on their Diamonds. Whether someone wants only one stone for a ring or other piece of Jewelry, or they are looking to buy multiple Diamonds, getting them at a discount can be easier on their budget. You may find that these Diamonds meet your needs just as well as higher priced options, depending on your preferences and other factors.
Our brand focuses on promoting choice thru Education. We will also be offering independently graded Diamonds as a choice for people who cannot afford to pay a premium for a lab graded diamond, or who may want a great looking stone at a lower price. With both lab graded and independently graded options, you can choose the diamond you love at a price you feel comfortable with. You will still have the grading information for that diamond, and the only difference will be that the grading is independent rather than through a lab. Of course, there will still be many lab graded Diamonds that can also be selected, giving you more choice than ever before in your diamond buying.
Then you will know what your beautiful new diamond is worth for insurance purposes, and can make sure you receive fair value if you choose to sell it in the future. Having that information and the peace of mind that comes with it adds value and comfort to the diamond buying experience.